PRODUCTION
Award winning WE ARE FAMILY !!! First fiction, first competition, first prize!
We are family crew!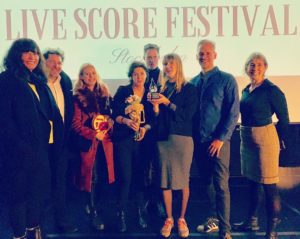 At the Live Score festival Stockholm 2018 the audience and the jury loved our film, the dark comedy We are Family, and it won an award!  It was amazing seeing the world premiere of "We Are Family", written and directed by Jannike Grut her self, with a live orchestra conducted by Jonas Dominique, at the first Live Score Festival in Stockholm.
We won the award for Best Composition! Thanks to a great collaboration between the actress, director Jannike Grut and the fantastic composer Sofia Hallgren! Thanks again also to the crew behind and especially there cinematographer Malin Nicander  for great photo.
NOV 11 th  The Modern Theatre produced film We are family  premieres at
The event aims to put light on the film music – the film score – and 8 newly produced shorts will be screened, with music performed LIVE by the Film score ensemble, conducted by Jonas Dominique.
The film is directed by Jannike Grut and the music is composed by Sofia Hallgren. See her fantastic reel here: Sofia Hallgren, Red pipe studios
ACTING
Jannike Grut plays the lead in the dark comedy We are Family.  A coming of age story for a middle-aged woman, about life death and new siblings. Jannike plays the Danish-American Nanna.
Jannike is also playing Danish Asta Larsen in a pilot for an English mini-series which takes place in Copenhagen.
Finally, Jannike is also filming in Norway, in the international production TBT, where she plays the German woman Nora.
WRITING
Meeting with a younger Swedish screenwriter this month, to develop new work relations.